"Taiwan is not a country that wants resources, but one that is willing to contribute to the international community and share the responsibilities as an international citizen."
Radio Taiwan International Chairperson Cheryl Lai
The Voice of Taiwan – and Why it Matters
As a national broadcaster that represents Taiwan and broadcasts to the world in 19 languages Radio Taiwan International (Rti) engages in a large range of mutually beneficially cooperative ventures with media from around the world in the field of news and programs. In this context, the Association for International Broadcasting (AIB), which upholds the pursuit of freedom, equality and truth by media workers around the world, has encouraged Rti to become more actively involved in the association, by enhancing exchanges, taking on more responsibility and showcasing our shared values on the foundation of an already excellent cooperative relationship.

On the evening of November 11, 2022, Taiwan time, Rti and AIB jointly held the "2022 Taiwan Forum in London," supported by the Taiwan's Ministry of Foreign Affairs (MOFA), Ministry of Culture (MOC), and Ministry of Digital Affairs(MODA). On the day of the forum, AIB Chief Executive Simon Spanswick, Taiwan Representative to the United Kingdom Kelly Wu-Chiao Hsieh, Rti Chairperson Cheryl Lai and up to 60 UK politicians, business leaders, academics and representative from international organizations attended the event, with more than 100 reports appearing in local and international media, including online video clips, print and online articles, and radio broadcast.
In 2017, China challenged Rti's membership of AIB and sought to replace it with China Central Television (CCTC). Faced with this challenge, Rti issued a resolute statement detailing its position which was ultimately supported by several AIB Executive Committee member countries, including the UK, France and Germany, securing its association membership. In 2022, Rti served on the AIB Executive Committee for the third consecutive year, leading Chairperson Cheryl Lai to observe that given such a difficult international environment, the re-election of Rti as an executive board member is proof that the international media continues to support the right of media in democratic and free countries to speak out. In the future, Rti will continue to proactively expand its international space, help the government promote international affairs while establishing substantive and stable channels for bilateral exchange, she said.
As a result of AIB's long-term support, Rti has been able to develop more international contacts. Moreover, changes in the international situation in recent years, such as the Russian invasion of Ukraine, have caused the world to pay greater attention to the situation in the Taiwan Strait with more countries coming to realize the importance of Taiwan as it fights on the front line to defend news media freedom in the Mandarin Chinese language speaking world. Indeed, given its limited international space, bringing together the government and private sector in Taiwan to organize this international community activity offered ample evidence that Taiwan is a capable democratic ally. In addition, we very much believed that as a national broadcaster, Rti would be able to use the "2022 Taiwan Forum in London" to facilitate tangible exchange and interaction. As such, Rti also leveraged the joint holding of the event with AIB to meet political and business leaders in the UK with an interest in Taiwan, while reiterating the country's determination to resolve disputes peacefully.
"2022 Taiwan Forum in London"
Taiwan and the World -– Sharing the Responsibilities to Make the World a Better Place
In order to underscore Taiwan's dedication to the universal values of democracy, freedom, peace, human rights and sustainability, while using the media to ensure our voice is heard, the theme chosen for the "2022 Taiwan Forum in London" was: "We Share the Same Responsibilities." Taiwan's representative to the United Kingdom Kelly Wu-Chiao Hsieh spoke at the forum, while Republic of China (Taiwan) President Tsai Ing-wen delivered a brief pre-recorded message, Minister of Digital Affairs Audrey Tang addressed the gathering virtually, discussing Taiwan's experience of cyberwarfare, and Kuo Chia-yo who is an Rti board member and Director of the Taiwan Digital Diplomacy Association talked about the use of digital tools, such as social media, to break out of the diplomatic blockade imposed on Taiwan by China.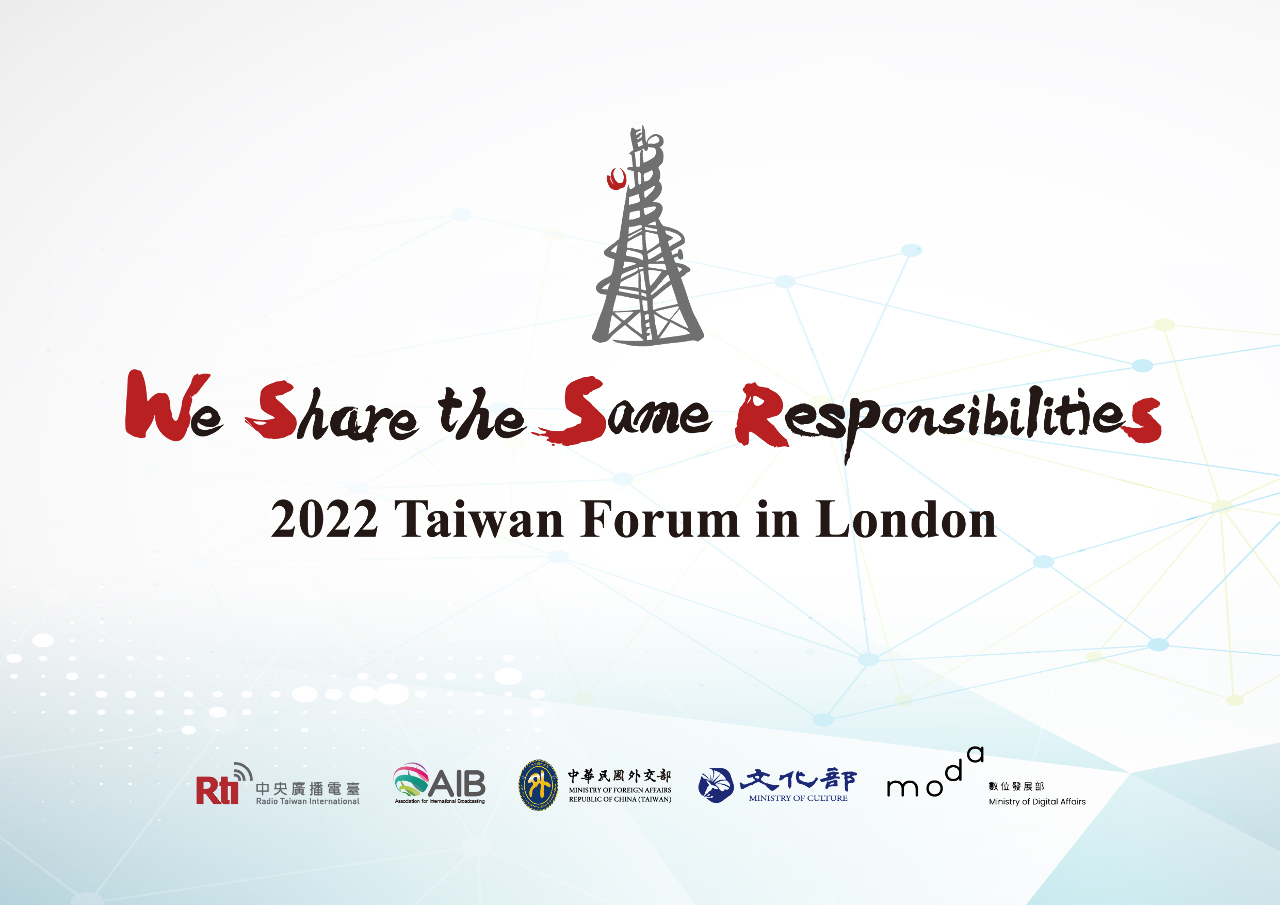 President Tsai Ing-wen said that Taiwan has already made impressive strides in its pursuit of media freedom and pointed out that Reporters without Borders named it one of the countries with the freest media in Asia. At the same time, and with the idea of press freedom in mind, the Ministry of Digital Affairs (MODA) was recently established with the mission of further enhancing media literacy and improving national cyber security. Tsai noted that Taiwan has worked assiduously to create a free and open media environment and is both willing and prepared to assist the international community in the promotion of media freedom.
Minister of Digital Affairs Audrey Tang spoke to the gathering virtually and shared with those in attendance how Taiwan has coped with cyberattacks and threats from its authoritarian neighbor, while also fighting fake information with humor. Tang emphasized that Taiwan is a resilient island and that various countermeasures have been planned in the event the Internet is paralyzed in a possible future attack. One of the core tasks of MODA is to ensure the country is digitally resilient in the face of various attacks and threats, enhancing adaptability so as to protect the hard-earned democratic and free way of life in Taiwan.
In her speech at the "2022 Taiwan Forum in London", Rti board member and Director of the Taiwan Digital Diplomacy Association Kuo Chia-yo pointed out that diplomacy can also be conducted with a keyboard and offered a new model to combat authoritarian regimes in the new era. She noted that the borderless Internet enables groups with shared values to establish digital tool alliances, presenting the example of the "Milk Tea Alliance" as reflecting the democratic values of Taiwan and India. Another group worked with Ukrainian nationals in Taiwan to raise funds. Both cases show how young people took the lead in establishing cross-national social media discussion, combating international threats, amplifying international voices and boosting online civil defense.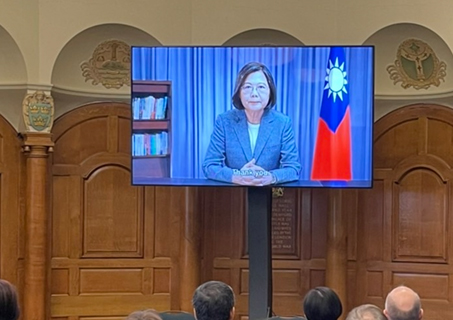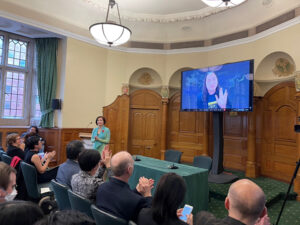 The "2022 Taiwan Forum in London" was held at Church House Westminster, which is located next to the world famous Westminster Abbey. This historical building was used during World War II as a temporary location for the Houses of Parliament and the United Nations Preparatory Commission. The UK government and royal family still often hold important events here, making it a symbolic bastion for the defense of freedom and peace around the world. On the day of the forum, AIB Chief Executive Simon Spanswick, Taiwan's Representative to the United Kingdom Kelly Wu-Chiao Hsieh, Rti Chairperson Cheryl Lai and roughly 60 UK politicians, business leaders, academics and representatives of international organizations attended.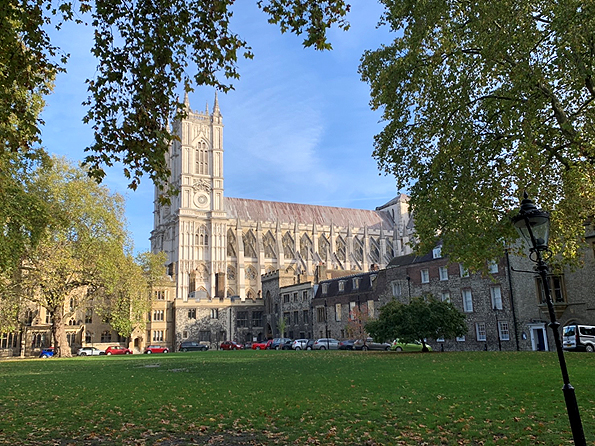 The "2022 Taiwan Forum in London" Showcased the Appeal of Contemporary Design from Taiwan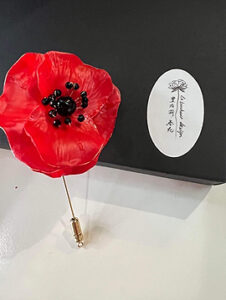 The "2022 Taiwan Forum in London" not only actively showcased Taiwan's determination and ability to participate in international media affairs, Rti also worked in close concert with the design and innovation sectors in Taiwan to highlight Taiwanese innovation on an international stage. For example. during her virtual speech Minister Audrey Tang wore a poppy brooch made by Le Bonheur Design from Dadaocheng in Taipei, to commemorate Remembrance Day in the UK on November 11. This hand-made item with its exquisite petals, pattern and lifelike design was a salute to those who gave their lives in war and a statement of support for Taiwan and its desire for freedom and peace.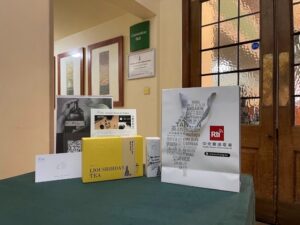 In choosing gifts bags to be presented to participants at the "2022 Taiwan Forum in London", the main focus was placed on the shared love of "tea" in Taiwan and Britain. These included P Seven "Taiwan tea fragrance" created by designer Pan Yu-ching; and "Lioushihdan Tea" from Fuli Township in Hualien, which won Germany's Red Dot Design Award and received two stars at the UK's Great Taste Awards.
In addition, the clothing worn by Rti Chairperson Cheryl Lai, Director Kuo Chia-yo and Vice President Isis Lee was designed by Taiwanese fashion designer Apu Jan; Lee even wore a English-style handmade hat from Taiwanese designer Winnie Lin when she attended the forum. This international event ingeniously sought to showcase Taiwan's international innovation and culture in London, successfully conveying the country's inclusive cultural values and employing Taiwan's soft power in a way that that received praise and appreciation from forum attendees.